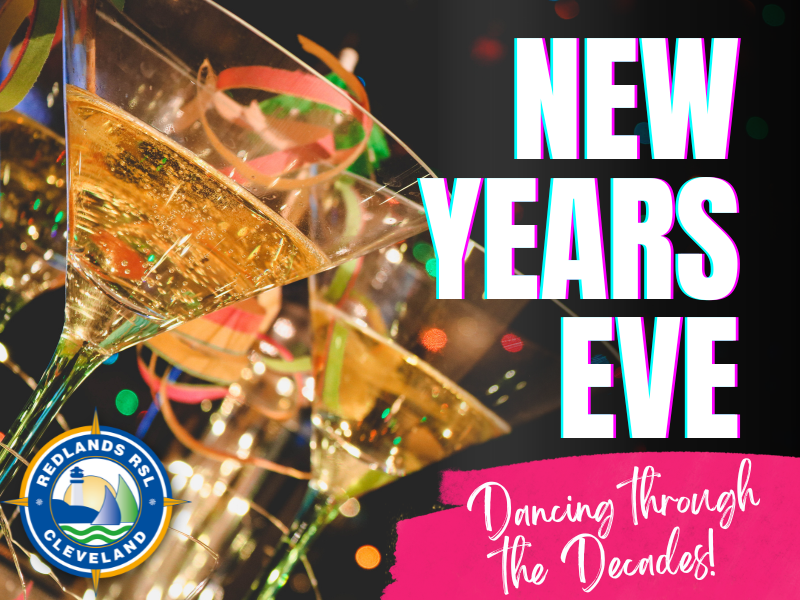 Celebrate the end of 2022 and the start of a new year here at Redlands RSL…
Dining:
Our renovations will be complete and our Sails on Shore Restaurant will be open for dinner with lots of delicious dining options. Choose from one of Chefs specials, or something from our new Summer a la carte menu. Table reservations for diners are essential!!! Click here to book online, or phone 34881199.
Entertainment:
Dance through the decades with 'The Accidents' who will be performing live on our new stage from 8pm to 1am.
With a combination a youthful exuberance and hard earned experience, this amazing group of people will rock your socks and show you what a good time is really all about.  The Accidents have a huge repertoire and cover all genres of music. They perform classic songs and today's Top 40 hits. Songs from Bruno Mars, Meghan Trainor, Taylor Swift, Katy Perry, Pink, Mark Ronson, G.R.L, Nicki Minaj, Ed Sheeran, Avicii, Calvin Harris, Rihanna to classics like AC/DC, Bon Jovi, Aretha Franklin, Stevie Wonder, Hunters & Collectors, Transvision Vamp, Divinyls and Cold Chisel.
The Accidents is one heck of a night out, sore feet and sore heads are guaranteed. See you on the dance floor this New Years Eve!
Please note that no table reservations will be accepted for the new lounge area.
Courtesy Bus:
Our members Courtesy Bus will be available from 3pm. Please phone our reception team on 34881199 to enquire or to make a booking. T&C's apply.