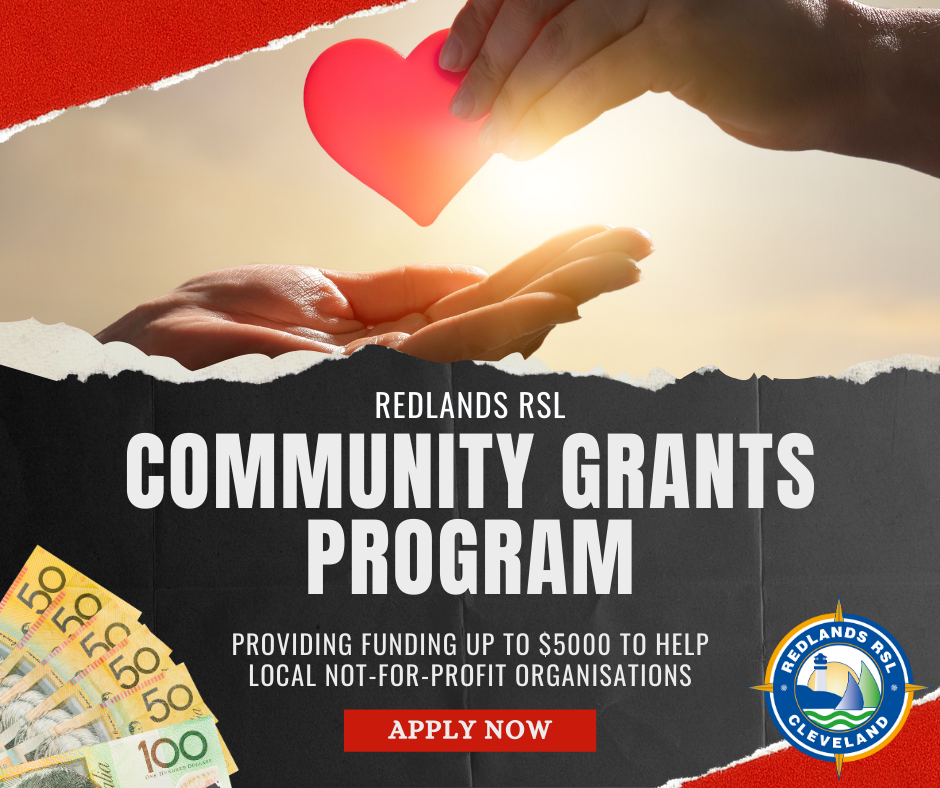 Redlands RSL Community Grants Program recognises the work of Voluntary and Community Organisations and is committed to support and encourage such groups, both within the Ex Service and General communities.
Redlands RSL Community Grants program provides funding up to a maximum of $5,000.00 to help not for profit organisations to:
buy tangible small equipment items to help volunteers and organisations, and/or
cover costs such as club sporting equipment, training of volunteers, and/or
office Furniture or equipment used within the organisation
Organisations can apply for funding on their own behalf, or seek funding on behalf of an organisation that is not a legal entity.
CALL FOR APPLICATIONS
The 2023 Grant Program will open on Monday 15th May 2023 and close at 5.00pm on Friday 28th July 2023.
Only applications on approved forms will be considered.
ELIGIBILITY OR ORGANISATIONS
Not for profit organisations that operate in the Redland City area…
Service and Ex-Service organisations, veterans' group, wellbeing groups and community organisations.
That are legal entities, such as, but not limited to: Incorporated entities, for example, legal entities registered under law such as incorporated;
Charitable institutions;
HOW TO APPLY
Application forms may be downloaded by clicking here or can be obtained from Redlands RSL 8 Passage Street, Cleveland.  Application forms, when completed, are to be mailed to Redlands RSL Community Grants, PO Box 1228, Cleveland 4163 or email leagueadmin@redlandsrsl.com.au.
ASSESSMENT OF APPLICATIONS
Redlands RSL Community Grants Program is a competitive process with limited funding.  All eligible applications will be assessed and rated on merit.
AQUITTAL & ACKNOWLEDGEMENT
Redlands RSL may require you to provide original receipts as proof of purchase. It is the responsibility of the organisation to maintain a complete set of records for acquittal purposes.
The applicants will appropriately acknowledge that the project was funded under the Redlands RSL Community Grants Program.
ADDITIONAL TERMS, CONDITIONS AND RESPONSIBILITIES
You must provide all information requested and ensure the information is complete and accurate so your application can be assessed.
Incomplete applications will not be considered for funding. Redlands RSL will not follow up information that is incomplete, not legible or incorrect.
Keep a copy of your application and any supporting papers such as quotes for your records.
The decision of the Redlands RSL Management Committee will be final and no further correspondence will be entered into.
Applicants will be advised of their success or otherwise after the 15th August 2023. Successful applicants will be required to attend a presentation at the Redlands RSL on a date yet to be determined.