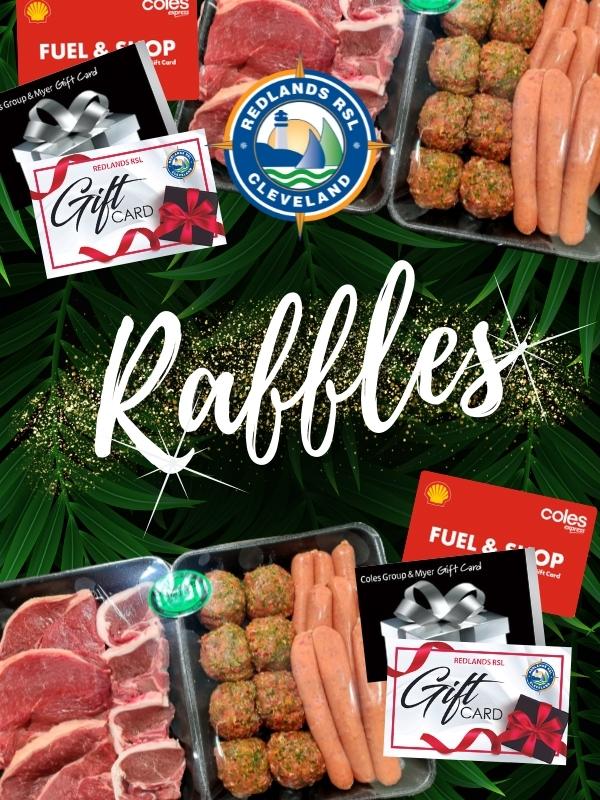 3 DAYS A WEEK
RAFFLES
Wednesdays – Drawn at 7.30pm
8 Prizes… Plus a BONUS!
Prizes: 4 x Meat Trays, 2 x Club Cards, 2 X Fuel Cards, and a Bonus $50 Cash
Fridays – Drawn at 7.30pm
9 Prizes… Plus a BONUS!
Prizes: 3 x Meat Trays, 3 x Club Cards, 2 x Coles Myer Gift Cards, and a Bonus Seafood Tray
Sundays – Drawn at approx. 2pm
20 prizes… plus a BONUS!
Prizes include: 5 x Butcher Vouchers, 8 x Club Cards, 4 x Fuel Gift Cards, 3 x Coles Myer Gift Cards, and a Bonus $125 Redlands Dollars Gift Card
Tickets on sale at reception.
Just another reason to sit back, relax, and enjoy here at Redlands RSL.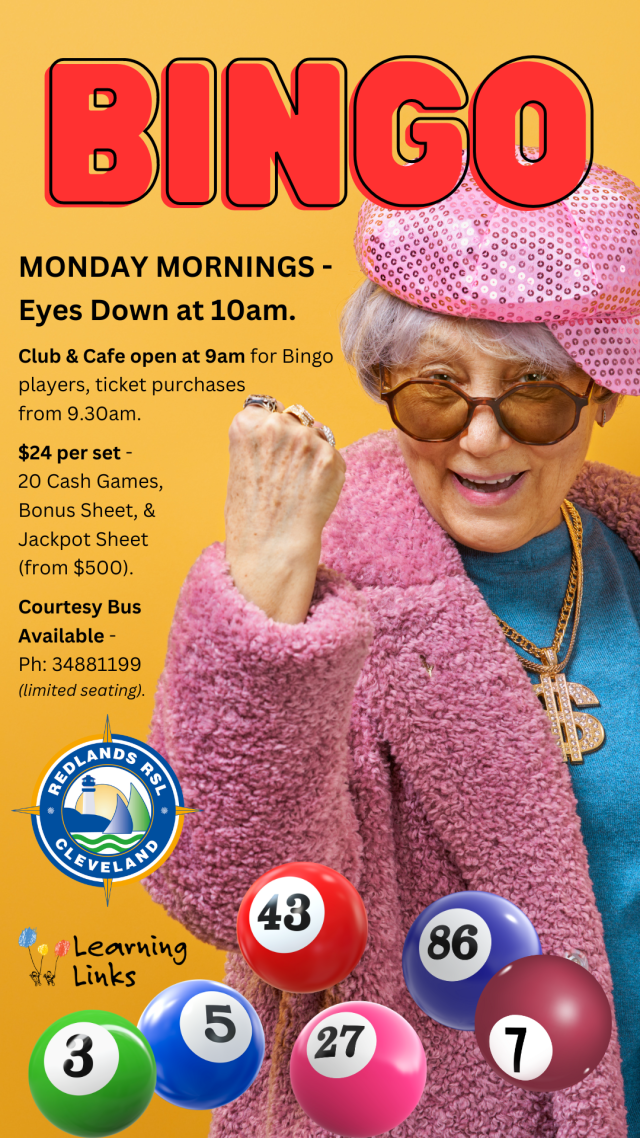 MONDAYS
BINGO
It's all fun and games until someone yells… BINGO!!
When: Monday mornings – Starting 25th September.
Where: Gallipoli Function Room
Times:
Doors open for Bingo players at 9am.
Cove Cafe will be open for purchases.
Purchase tickets | PETS from 9.30am.
Eyes down at 10am.
Cost: $24 per set – includes 20 cash games, bonus sheets, and jackpot sheet (Jackpot from $500).
Courtesy Bus is also available, please phone 34881199.
Run by Learning Links.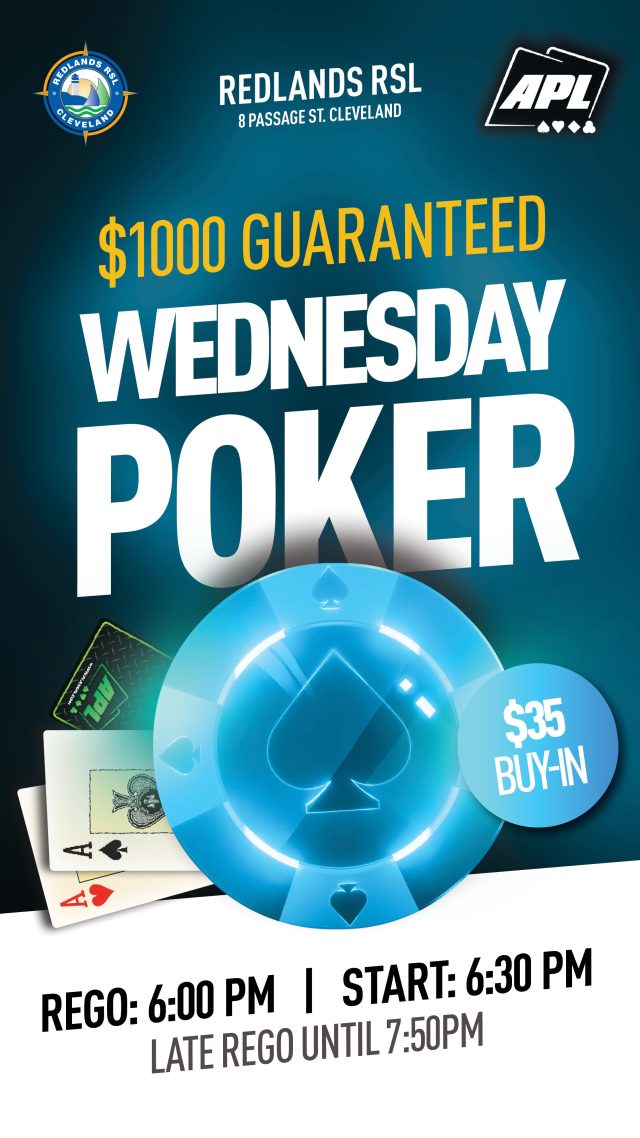 WEDNESDAYS
POKER
When: Wednesday Nights – Starting 6th September
Where: Function Room
Times: 6pm rego for a 6.30pm start (late rego until 7.45pm).
Cost: $35 Buy-In.
Prizes: $1000 Guaranteed.
Run by ALP.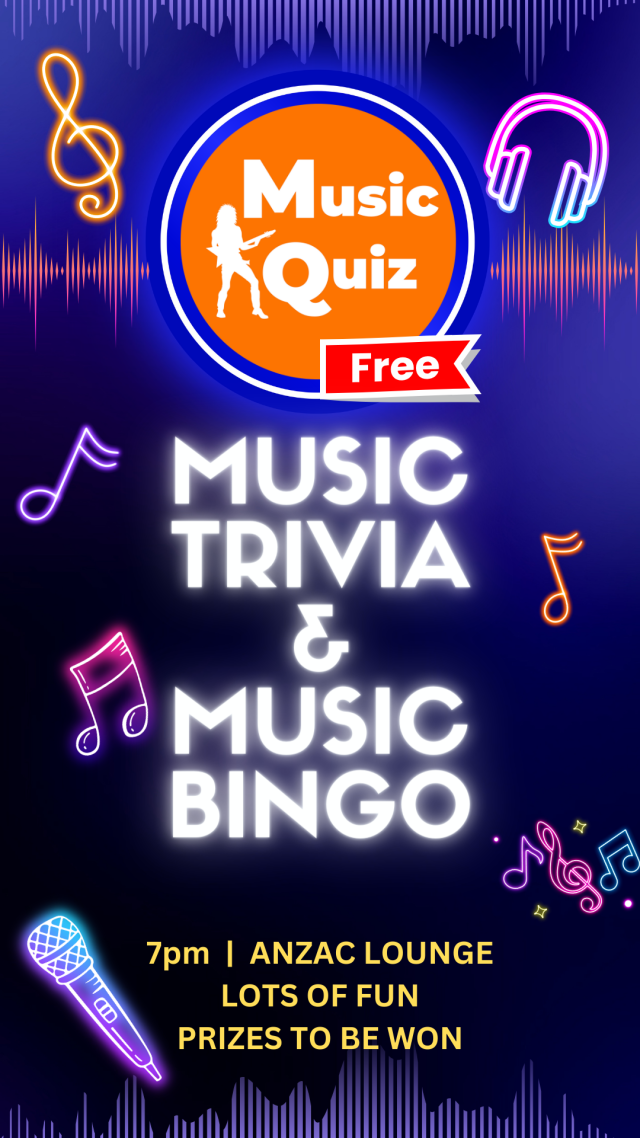 THURSDAYS
MUSIC TRIVIA & MUSIC BINGO
When: Every Thursday Night
Where: Anzac Lounge, Redlands RSL
Time: From 7pm
Cost: Free
Calling all music lovers… every Thursday night from 7pm in Anzac Lounge we will be having Music Trivia or Music Bingo (rotating weekly).
If you consider yourself a bit of a music buff, or simply enjoy singing along to your favourite songs & winning prizes, then this is for you. It's free to play, so get your family and friends together and make a night of it. You can even enjoy dinner at Sails beforehand!
Visit our Live Entertainment page to see which week Music Bingo or Music Trivia is on – click here.