Raffles
Wednesdays – Drawn at 7.30pm
8 Prizes… Plus a BONUS!
Prizes: 4 x Meat Trays, 2 x Club Cards, 2 X Fuel Cards, and a Bonus $50 Cash
Fridays – Drawn at 7.30pm
8 Prizes… Plus a BONUS!
Prizes: 3 x Meat Trays, 3 x Club Cards, 2 x Coles Myer Gift Cards, and a Bonus Seafood Tray
Sundays – Drawn at approx. 2pm
20 prizes… plus a BONUS!
Prizes include: 5 x Butcher Vouchers, 8 x Club Cards, 4 x Fuel Gift Cards, 3 x Coles Myer Gift Cards, and a Bonus $50 Redlands Dollars Gift Card
Tickets on sale at reception.
Just another reason to sit back, relax, and enjoy here at Redlands RSL.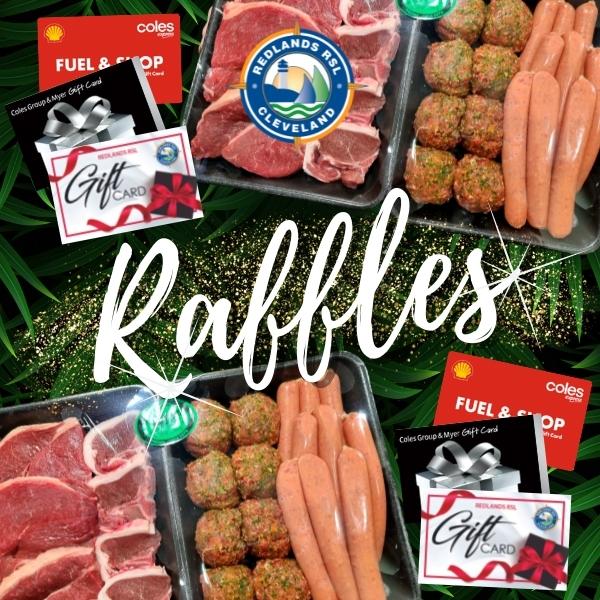 ---
Bingo
Please note: Due to our renovations, Bingo is not available at this time.
Where: Gallipoli Room, Redlands RSL
When: TBC
Bingo is a popular game of chance which appeals to both the experienced players as well as those who have never played before.
Join us every Tuesday night in the Gallipoli Room and test your luck at winning a line, or the card with cash prizes and the Jackpot up for grabs.
$24.00 buys a for a full set of books and jackpot sheets. Half sets are available for beginners.
There are two jackpots. One for $500 in calls with a consolation of $50 and one for $1000 in calls with a consolation of $100.
Open from 6.15pm with eyes-down at 7.00pm.
Newcomers and beginners are always welcome.