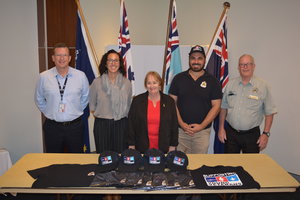 YOUNG VETERANS RECEIVE REDLAND CITY COUNCIL COUNCILLORS SMALL GRANT.
On May 27th 2019, YV Redlands was at the RSL to complete corporate governance requirements for their successful application of Redlands Small CR Grant. The committee purchased a quantity of Young Veteran's T-shirts, Polo Shirts and Caps.
Proudly sponsored by Redland City Council Councillors Small Grant given to Young Veterans.